Bourbon Street's Premier Blues Club!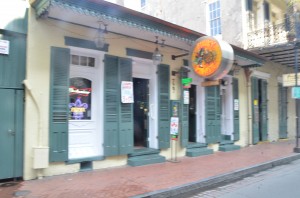 The Funky Pirate Blues Club at 727 Bourbon Street
The Best Blues Club on Bourbon Street is undoubtedly the famous and fun Funky Pirate™ featuring the internationally acclaimed "Big Al Carson" (495 pounds of pure New Orleans Blues) & The Blues Masters is open at 5 p.m. Monday through Thursday and at Noon Friday, Saturday and Sunday.  Other great local talent is spotlighted for Blues and Jazz such as Marc Stone, and Mark Pentone.
As part of the Tropical Isle® group of locations in the French Quarter, we have the best specialty drinks around.  Order the Pirate's Bloody Mary, the world famous Hand Grenade®, the extremely fun Shark Attack or one of our other unique drinks.
A location features a pirate decor to set the mood and "LiL Funky" the Party Pirate helps set that mood.  TVs for those must-see sporting events, including an 80″ Hi-Def TV that plays Pirate Movies when those games aren't on.  Check out our live streaming web camera of our stage at Funky Pirate™.
Some of the most exciting blues and New Orleans-style musical groups ever to play the Big Easy entertain the locals and tourists that throng to this popular French Quarter pirate's den.  On Monday nights we have a rotating monthly special guest entertainer!